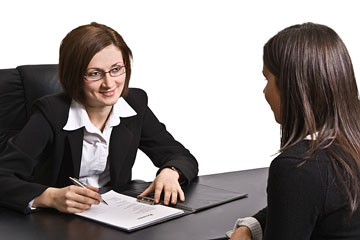 The primary responsibility of human resources is to attract, motivate, and retain qualified employees and match them to suitable positions. Human resources personnel interview and hire new staff, handle employee benefits, and provide training opportunities to help increase employee skills and satisfaction.

There are a variety of human resource specialists in today's workforce. Human resources generalists handle all aspects of human resources in a small company, while a director of human resources may supervise several departments in a larger company. Employment and placement supervisors, such as recruitment specialists and employment interviewers specialize in recruiting and placing workers. Compensation, benefits, and job analysis specialists administer compensation programs for employers, including health insurance and retirement plans.

Human resources managers and personnel usually work a standard 40 hour week in a comfortable office setting, but a few may travel extensively to professional meetings, job fairs, and college campuses. Educational backgrounds vary considerably, but most employers look for college graduates with a major in human resources, human resources administration, industrial and labor relations, business, or liberal arts. Entry-level employees learn by performing administrative duties, and are given more responsibility as their competence is proven.

In addition to an appropriate bachelors or graduate degree, human resources personnel must be able to speak and write effectively, and be knowledgeable about computer systems and digital communication devices. They must be able to function under pressure, deal with conflicting points of view, and handle sensitive employee information in a discrete and confidential manner. The ability to speak a foreign language is also an asset in some organizations.

Employment in the field of human resources is expected to grow much faster than the national average, and should be best for college graduates who earned certification through a professional association or organization. For more information about human resource management careers and certification, please visit the Society for Human Resource Management.
Related Directory Pages
---
About Human Resources Firms